Typical food warm As Jogjakarta
New
York
may
just
have
the title
as the
"
Big
Apple"
and Jakarta
is
also
the capital
of the Republic of
Indonesia
as the
"
Big
Durian
"
,
then the
Yogyakarta
may
be called
"
Big
Jackfruit
"
(
=
Nangka
Giant
)
.
Why
Jogja
can be called
as such
?
?
For
culinary
gudegnya
that is so
popular
and
very
tasty
and
healthful
.
Delicious
cuisine
made ​​from
young jackfruit
is
as
a
food
mandatory for
anyone who
was visiting the
tourist
paradise
on the island of
Java
.
Gori
(
young jackfruit
)
in such a way
that
gummy
cleaned
and then cooked
in
coconut milk
with
herbs
and spices
for hours
.
Once cooked
,
categories
become
soft
and slightly sweet
.
Gudeg
usually served with
sambal
goreng
krecek
(
cowhide
)
spicy
,
boiled
egg
, tofu
and
tempeh
bacem
,
as well as
chicken
or
chicken
bacem
opor
.
As a final touch
,
warm
watered
savory
areh
which gives
the distinctive
taste
is second to none
.
Yum
-
yum.
Gudeg Dry, Wet Gudeg, and Gudeg Manggar
Maybe for most people, warm is warm.
But there are actually three different types of warm; warm wet, warm, dry and warm Manggar.
Wet warm coconut milk served with a tasty nyemek and much sought after for breakfast menu.
Gudeg this type can be found along Jalan Kaliurang area Barek, Gudeg City Limits (Jl. Adisucipto front Saphir Square) or mbok-mbok gudeg sellers in traditional markets.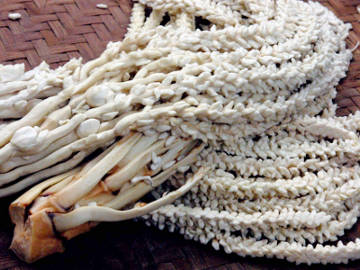 Manggar
Warm dry cooked in a longer time until the liquid dries and the color is more brownish.
It was also much sweeter.
Gudeg this type can hold up to 24 hours or even more if put in the fridge so many people hunted as souvenirs.
Usually the seller packaged in cardboard boxes, baskets (boxes of woven bamboo) or kendil clay.
Not to be confused with where to find because most of the stalls warm like Gudeg @ Yu-Narni (+62 274 867231; Jl. Palagan Students' Army 102), Yu Gudeg Djum (+62,274 515 968; Jl. Kaliurang Km 4.5 Coral tamarind CT
III/22), Gudeg Ahmad Bu (+62,274 520 049; Jl. Kaliurang km 4.5), Bu Gudeg Tjitro 1925 (+62,274 564 734; Jl. Janti 330), and sellers in the area Wijilan gudeg sell souvenirs special
this.
In addition to warm young jackfruit, Jogja also has a warm Manggar.
Manggar aka coconut flower produces a sensation on its own delights this culinary offerings.
The flowers were crunchy while the stems have a flavor similar glimpse of oyster mushrooms.
The more limited supply of this culinary Manggar causing increasingly difficult to find.
Some sellers are forced to close shop and only serves bookings only.
Only a few places that still stand as some areas in Bantul and Public Eating Mbok sideboards (+62 274 445697; Jl. Parangtritis km.7).
Sentra Gudeg Wijilan and Barek
Gudeg can be found in almost every corner of the city of Yogyakarta.
But the region was Barek Wijilan and most famous as the center of warm.
Wijilan complex located not far from the Sultan's Palace and is a 10 minute walk or to ride tricycles.
Preceded by Mrs. Slamet start selling since 1946, is now around 17 stalls lined up to meet the Jl.
Wijilan.
You can choose according to taste warm.
Yu warm Djum (Jl. Wijilan 31) for example, presents the warm dry with a sweet taste typical cuisine of Jogja.
Kreceknya small sliced ​​and then cooked into a creamy sauce fried.
If you want a warm that is not too sweet, you can come to the Gudeg Bu Slamet (+62 274 380429; Jl. Wijilan 17).
The average stall gudeg in Wijilan open from 5:30 am to 8 pm, except Gudeg Bu Tarto (Jl. Wijilan 15) which is open 24 hours.
If you happened to be in the north of Yogyakarta, try to come to Barek.
Every dawn, sellers gudeg lined the roadside in the northern region UGM campus.
When the morning starts before and traders are packing up his wares, there is still a warm stall Ahmad Bu (+62 274 520049; Jl. Kaliurang km 4.5) is famous to the artists and officials, Yu Djum (+62,274 515 968; Jl.
Kaliurang Km 4.5 Coral tamarind CT III/22), Yu Narni (+62,274 589 687; Jl. Kaliurang km 4.5 Karangasem CT III/19), or Bu Tini which is open until midnight.
These shops also provide an opportunity for those who want to see the process of cooking warm.
Early Days to Midnight
Yogyakarta is a city that never sleeps.
One breath that kept him awake is warm.
The salesman turns wares from early morning until midnight.
When dawn arrived and the sun was not out of the horizon, and Barek Wijilan already begun to pick up with the activities of people hunting them warm for breakfast.
The vendors in this warm centers will continue to faithfully serve the customer up at 8 or 9 pm.
You suddenly want to feel the warm delights in the middle of the night?
Do not worry, Gudeg City Limits (Jl. Adisucipto front Saphir Square) which began to open at 10 pm ready to tempt your taste buds with a special warm feeling.
Or you can try to enjoy the warm sensation directly in Pawon (kitchen) Gudeg Pawon (Jl. Janturan Warungboto 36-38).
Prices (April 2011):
1 serving of warm: Rp 7,000 - Rp 35,000
1 package dry warm for a souvenir: Rp 50,000 - Rp 150,000
Copyright © 2011 YogYES.COM